A New Structure Back-parapet Breakwate
1. Development Background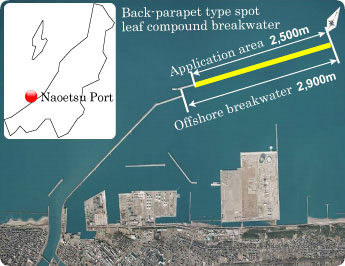 Corresponding to the size increases of ports and harbors, breakwaters are being constructed at deeper depths and in areas of higher waves, and this results in the trend of higher construction costs. Thus, the development of more economically efficient breakwaters has been addressed.
Considering various aspects through hydraulic model experiments, Niigata Research and Engineering Office for Port and Airport has developed a new structure, back-parapet breakwater.
Starting with the breakwater off Naoetsu Port, this new structure has been constructed as a model for others, such as Akita Port, Sakata Port, Fushiki Toyama Port, Kanazawa Pot, and Wajima Port.
2. Structure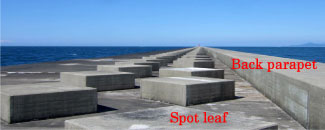 3. Effect