Coast maintenance facilities, Niigata west coast area
Creation of familiarized ocean coast
At Niigata west coast area incessant construction and maintenance works are provided for cost protection facilities such as breakwater piers and offshore breakwaters to protect comfortable human life from coastal erosion. These facilities are installed not only to prevent sand flown away but also protect coasts from attacking of roughshod ocean weaves in wintertime. The facilities are so designed that people may have familiarity in the coastal area when ocean shows her mild and calm face only.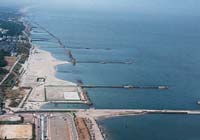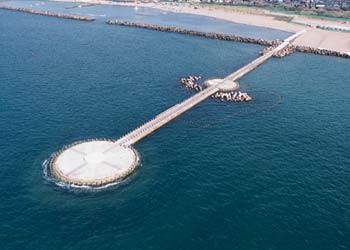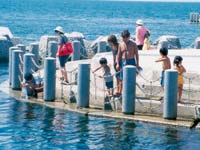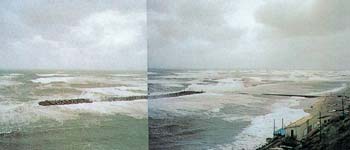 Areal protection method
At Niigata west coast area, protection measures against erosion is provided by integrated arrangement of breakwater piers installed from ocean coast and offshore breakwaters (submerged breakwater) build offshore in addition to sand bank arrangements installed behind offshore breakwaters.