verview of the Niigata Minato tunnel
The Niigata west port is one of the largest sea ports opened to the Sea of Japan located at the river mouth of the Shinano River, however, there was no road connecting right and left bank that may enable smoother harbor distribution and transportation. This issue was considered to be the obstacle for years to Niigata to step forward to further development and for dairy life of regional habitants. In such circumstance, the action to build up connection route was looked forward strongly from the year 1919, and now longtime dream of the habitants comes true at last. The "Niigata Minato tunnel" crossing the Shinano River is completed. The whole route was opened in July, 2005 in the same time with the seaside road opening that improved greatly the traffic convenience between east and west bank areas of the Shinano River. Also access to Niigata west coast area was improved where sandy beach restoration work is now advanced.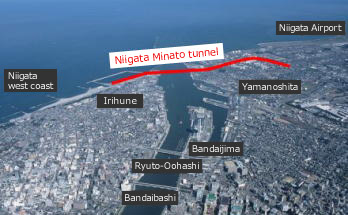 Outlines of the road
Construction standard:
Type 4 Class 1 (design speed 60㎞/h)
Number of lanes:
4 lanes with 2 way separation (Bicycles and pedestrian passage are installed at the both sides of the roadway).
Width of a lane: 3.25m
Maximum longitudinal slope: 4.0%
Limit height of the construction: 4.7m
Planed total length:
3,260m (850m is immersed tunnel section)
Main road: Right bank side → main local road Niigata Yokogoshi line and the National Road No.113
(Partly concomitant use with the National Road No. 1-54) Left bank side → Harbor road Irihune No.1 line.