Outline of hydraulic experiment
Niigata Research and Engineering Office for Port and Airport which has jurisdiction over four serial prefectures from Niigata Prefecture to Fukui Prefecture. It implements technology developments, researches, hydraulic model experiments, and engineering necessary to construct harbors.
In the Hydraulic Laboratory owned by this Office, properties of wave in a harbor including height and direction are measured to optimize the arrangement of the structure in the port and the stability of the structure against waves is also measured with wave actions in various scales.
These experiments significantly help solve problems that cannot be addressed by computer based numerical analyses (simulations) prevailing today, including complex waves (irregular waves) and quite new problems that we have not experienced.
Our Laboratory is one of the largest hydraulic model experiment facilities in Japan. It has two flat water basins (larger fiat water basin is about six times as large as the size of a 25m-pool) that can reproduce large area in three dimensions and a long flume (profiled basin) that allows us to laterally observe the installed model in two dimensions. The building is 4,000m2 but has no pillar in the central area because of a large water basin lying.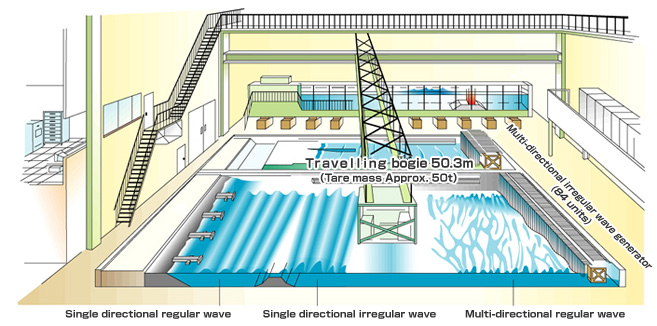 Facility
Multi-directional irregular wave generator
Classification
Wave generator
Wave generator
capability
Kind of
generative wave
Type
Wave generator
extension
Maximum
wave height
Cycle
Multi-directional
irregular
wave generator
Piston type (joint type)
50cm/unit x 12 units = 6m
(water basin A)
50cm/unit x 72 units = 36m
(water basin B)
Regular wave:
35cm
(model value)
35m
(current value)
0.4-4.0 seconds
(model value)
4.0-40 seconds
(current value)
Single directional regular wave (including oblique wave);
Single directional irregular wave (including oblique wave);
Multi-directional regular wave
- The current values are converted from the reduced scale 1/100 model.
Reflection experiment (Flat water basin A)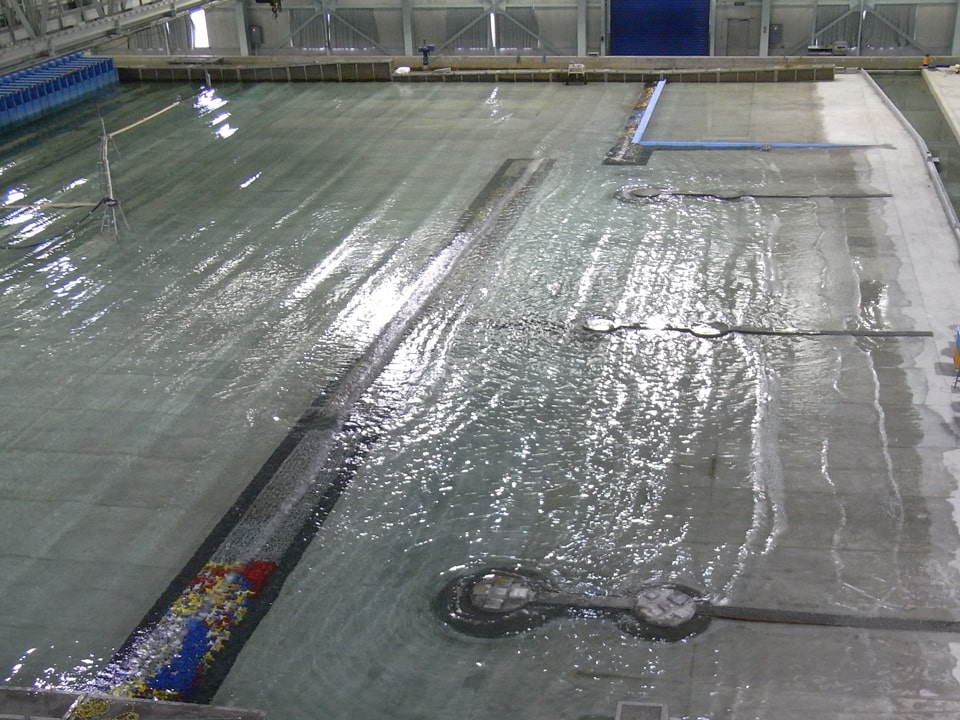 In this experiment, waves reflected from the breakwater is measured with the breakwater geometry being varied to identify the best geometry that can reduce the reflection of waves.
Coastal structure arrangement experiment (Flat water basin B)
Wave height, velocity, and others are measured and observed with the structure being varied to identify effect of submerged breakwater against waves.

These experiment results will be reflected on further engineering.
* A submerged breakwater refers to a structure installed under water surface to dissipate waves.
Stability experiment (Long flume [Profiled water basin])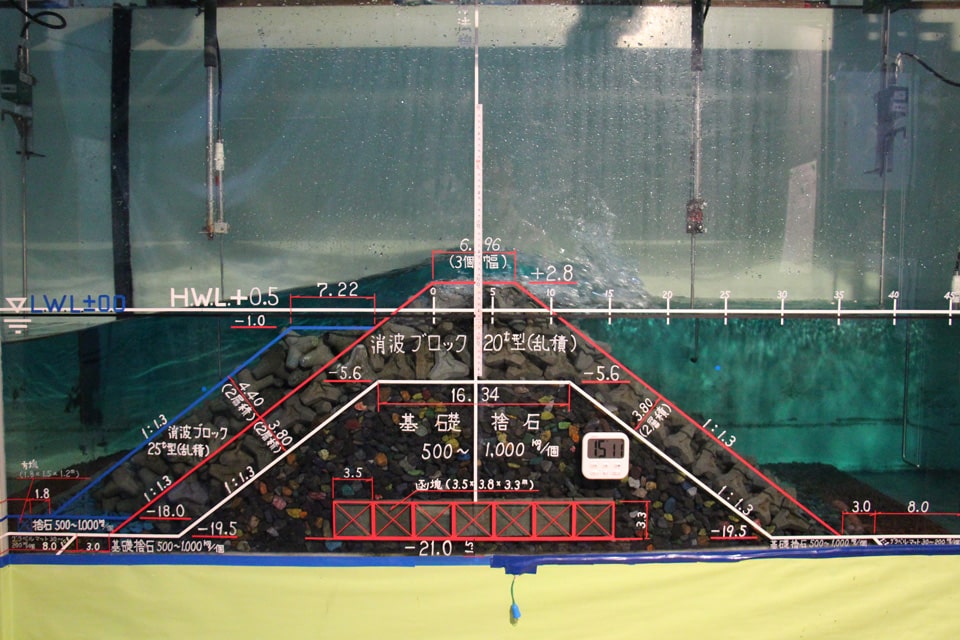 How the breakwater and various blocks behavior against waves is observed and measured to verify the stability of the structure.
It is also used to develop new structures and types of breakwaters that meet diversified requirements and performances.
Calmness experiment

Optimal arrangement of port facilities is examined by reproducing characteristics of waves in a port.
Wave generator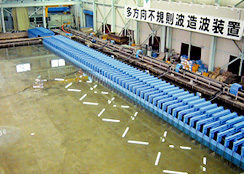 It is a facility that can artificially generate waves. It can produce waves closed to actual sea wave* by independently moving each paddle mounted on it. This wave generator is called Serpent (snake) type wave generator because the movement of these wave generating paddles is like a snake's undulation.
* Multi-directional irregular wave: Wave that is integrated with mutually overlapped big wave, small wave, long wave, and short wave coming from various directions.
Instrument carriage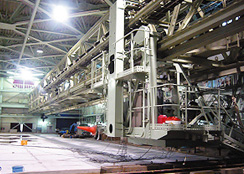 This carnage can flexibly traverse over the water basin. It moves to the specified places one after another, and measures wave heights and flow velocity at various points with the instrument mounted on the carriage. Traversing with this carriage allows us to observe waves from straight above at the center area of the basin.
Water basin control and data analysis room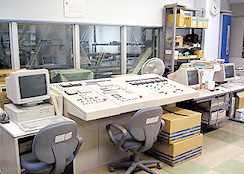 It is a room to control wave generator producing waves and the instrument carriage and also collect and analyze the measurement data. The wave generator is controlled by the computer that stores the input wave data and transmits the signals for its proper operation. Many computers are disposed to analyze the measurement data.