Port and harbor facilities Breakwater, Quay, Harbor side line
[Toyama new port East-West line, Niigata Minato Tunnel]
Designing of the harbor facilities
Various facilities are furnished for the port and harbor in order to implement cargo handling of ocean vessels and getting on off of passengers in safety and effective conditions. These facilities are mainly configured from "Breakwater" to prevent rough waves from open sea, "Sea route" and "Anchorage" for sailing and mooring of ocean vessels, "Quay" for mooring vessels to carry out cargo load/unloading, warehouses and others for cargo storage and handling, as well as Harbor side lines to transport cargo into and out from the port area. Among these facilities, designing of breakwaters, quays, and harbor side lines and others are carried out by our office.
Breakwater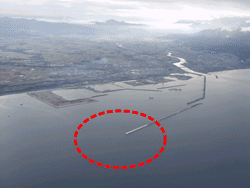 Breakwaters are installed for the purpose to maintain tranquility inside the harbor, and aims to make loading operation smoother as well as safety sailing of vessels. Designing of the facility is decided properly to adopt appropriate structures considering various conditions such as tide level, waves, depth, and ground conditions of each port.

Quay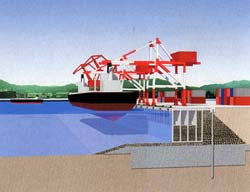 Quay is the facility to be used for mooring vessels to carry out cargo load/unloading, while the designing concept of which is normally decided by the size of ocean vessels, type of cargo to be handled and ground conditions of the site. Especially in recent years, the demand of such quay is increased to match enlarged hull size for larger cargo capacity and or earthquake proof reinforced type quay that enables stable load/unload operation of rescue supplies in emergency case of earthquake. Our design is matched to such demands.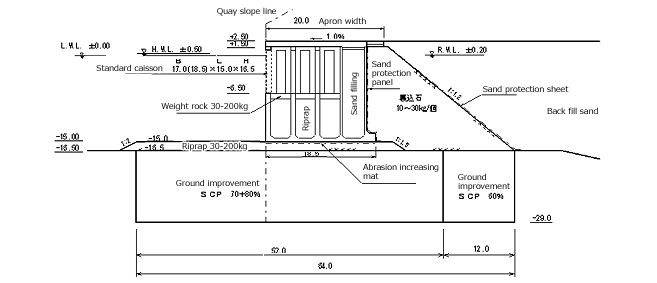 Harbor side line [Toyama new port East-West line, Niigata Minato Tunnel]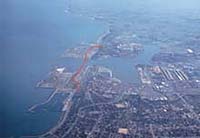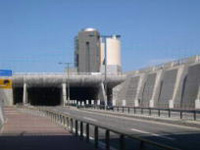 The great number of peoples and cargoes go inside and outside through the port that is the connection point of land and ocean. The harbor side line is the connection road that connects port area and the backland for soother traffic circulation of cargos and passengers. The harbor side lines are so designed to facilitate vehicles safety and smoother transportation considering various conditions of natural environment such as geographical, weather, and walrus features as well as the traffic conditions of the hinterland area.